Meet the team that keep The Balloon Tree going...
Matthew Machin
Co-founder and Managing Director
One of the founding members of The Balloon Tree, Matthew has grown (pun intended) the business to how it stands today. The Machin family have been farming the land The Balloon Tree sits on for over 35 years.
Matthew is still very active in the day to day running of The Balloon Tree, including overseeing the farm and pick your own, and of course developing plans on how we can evolve the business.
When not onsite or checking over the farm, Matthew enjoys getting in some time on the golf course and walking his dog (Monty) with his family.
Read Matthew's full profile
Tom has been with the business since he was 16 with a couple of gaps for university. His very first role at The Balloon Tree was acting as the Easter Bunny before moving through to the kitchen as a pot wash. Tom has spent time in every department, covering most roles, apart from the Bakery… Baker Simon does not seem too keen.
Tom focuses on the day to day running of the business ensuring everything is running as smoothly as possible and assists Matthew in taking the business forward in the long term.
When off duty, Tom enjoys spending time with his nephew, Jack and touring other Farm Shops to see who does the best breakfast.
Read Thomas' full profile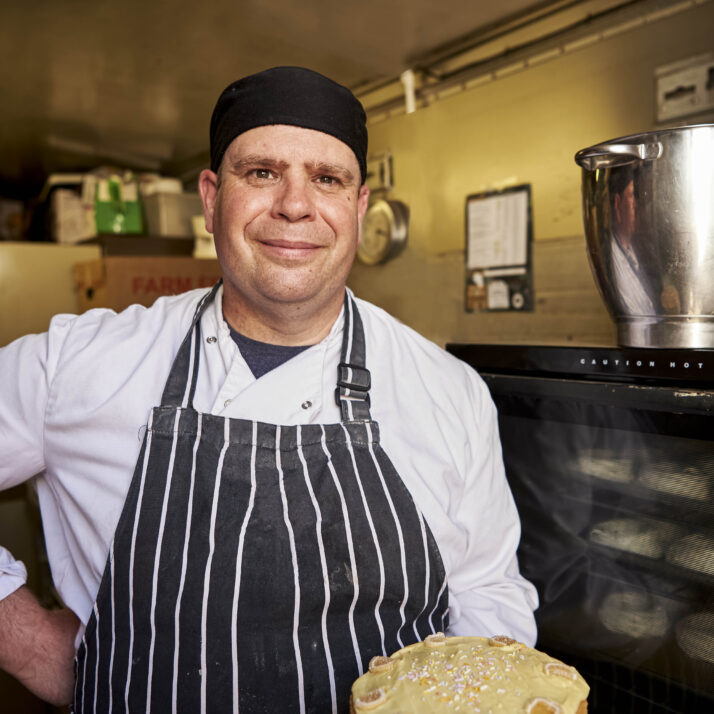 Simon Rimmington
Head Baker
Simon is a career long Chef and in 2015 joined The Balloon Tree to head up its Bakery. Although a Derbyshire lad growing up on the estates of Chatsworth House, Simon has worked at some key venues in York including the Dean Court Hotel and the National Railway Museum.
Simon produces some of the finest cakes, desserts and traybakes this side of the river Ouse. His keen skill has helped in honing some Balloon Tree Classics to gain the reputation they have today including our fresh fruit roulade and our Malteser cake.
When he takes off his Chef's hat, he is out with his wife Vicky for country walks, or looking for the next new cafe in York, or simply at home with his cat, Dennis.
Read Simon's full profile
Nicola White
Marketing and HR
Nicola has been with the business since 2016 and through that time predominantly worked in a supervisory role in the Café. Over time Nicola has diversified her position and picked up additional responsibilities to aid the business and take a few things off Tom's plate.
Nicola manages The Balloon Tree's social media accounts and oversees the marketing strategies for the business. Nicola is also a diverse member of staff who can turn her hand to working in other departments within the company, when necessary, mainly she assists in keeping the cafe running smoothly.
When not on site, Nicola has a house plant obsession and spends her time pruning, watering and tending to her unnecessary number of plants.
Read Nicola's full profile
Caroline Bryan
Farm Shop Manager
Caroline has been successfully running the Farm Shop since 2018 but has been an established member of the team since 2015. Caroline is a trained florist which she often turns her passion to when buying the wide variety of plants and flowers which we sell outside of the Farm Shop. Over the Christmas period she diverts that creative flair into the hampers she makes available either to order, or for the shelf.
Caroline oversees the Farm Shop in its entirety. She's responsible for making sure her team keep the deli well stocked and the produce department looking at its freshest!
When not at the Balloon Tree Caroline spends time with her children and is frequent side-line spectator at any sporting arrangements they may have.
Read Caroline's full profile
Natalie Hewison
Farm Shop Supervisor
Natalie joined the shop team in November 2020, in a previous life she had worked at Morrison's in a similar role, so the world of retail is nothing new to her. More recently she has been working as a hairdresser, meaning her love of a good chat is part and parcel of the job.
So far, she has got her teeth sunk into our fresh produce department and ensures what is out for sale is at the highest quality possible.
In her spare time Natalie is still seeing some of her old hairdressing clients having always enjoyed the relationships she has developed.
Read Natalie's full profile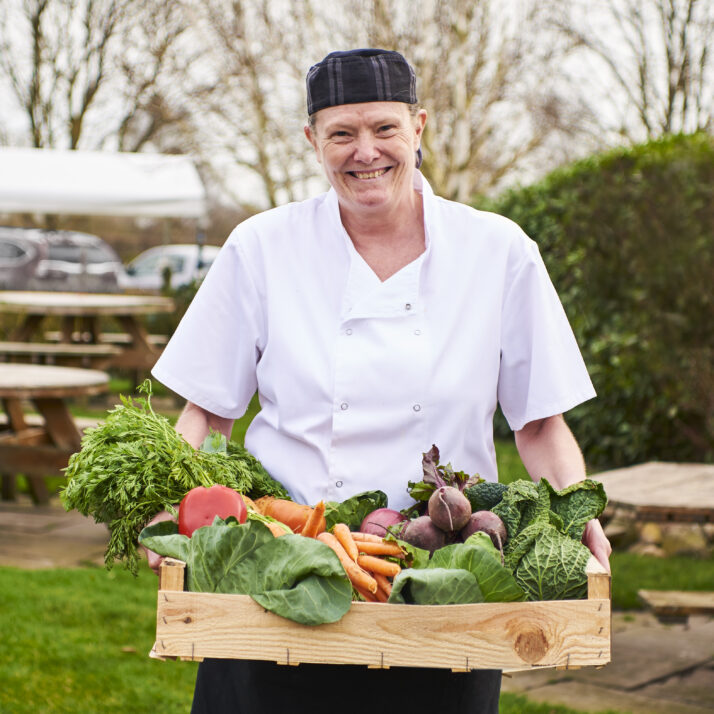 Emma has been heading up The Balloon Tree Kitchen alongside our other Head Chef, Luke for the past 4 years. However, since 2015 she has been putting food on The Balloon Tree Cafe tables.
The passion for food which Emma exhibits is clear day to day, and she is yet to produce a dish that doesn't go down a storm. More recently Emma has been taking a more active interest in developing her skills to be more vegan inclusive, and has started producing purely vegan soups for the cafe.
When not in the kitchen, Emma can often be found on the netball court.
Read Emma's full profile
Stephanie Rowland
Front of House Manager
Steph is not only a key member to the café, but an integral part of The Balloon Tree overall. She has been with us since July 2018 and has made each and every shift a joy.
When not in work, Steph has a hands-on interest in cocktail making, and what Steph doesn't know about a passion fruit martini isn't worth knowing.
Read Stephanie's full profile
Karina Brown
Assistant Front of House Manager
Karina has been with us since August 2021. She has a vast background in hospitality, including a long stint in managing events. This experience of working in a fast paced and ever changing event environment lends itself perfectly to the busy days we can have in the café.
On her days off she does enjoy all things café culture and ventures out into other venues to see where she can find the best latte.